Have a Specialized order or would like a Quote?
Complete the form below for a quote.
Don't forget to add Stand-Cote coating to your order to get the most out of your fasteners!
---

---
Credit Accounts Available
Have a business and would like to establish a credit account with us? Then fill out the below credit application, and we will get back with you shortly upon approval.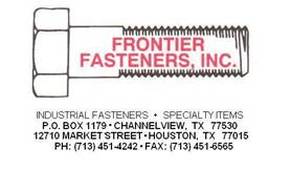 Credit Application

General Information:All individual orders are subject to credit approval and acceptance by Frontier Fasteners, Inc. Credit approval cannot be granted until the following information is completed and reviewed. All information is confidential and is solely used for this purpose by Frontier Fasteners, Inc.

Please fill out all fields, add N/A for for fields not applicable.


---